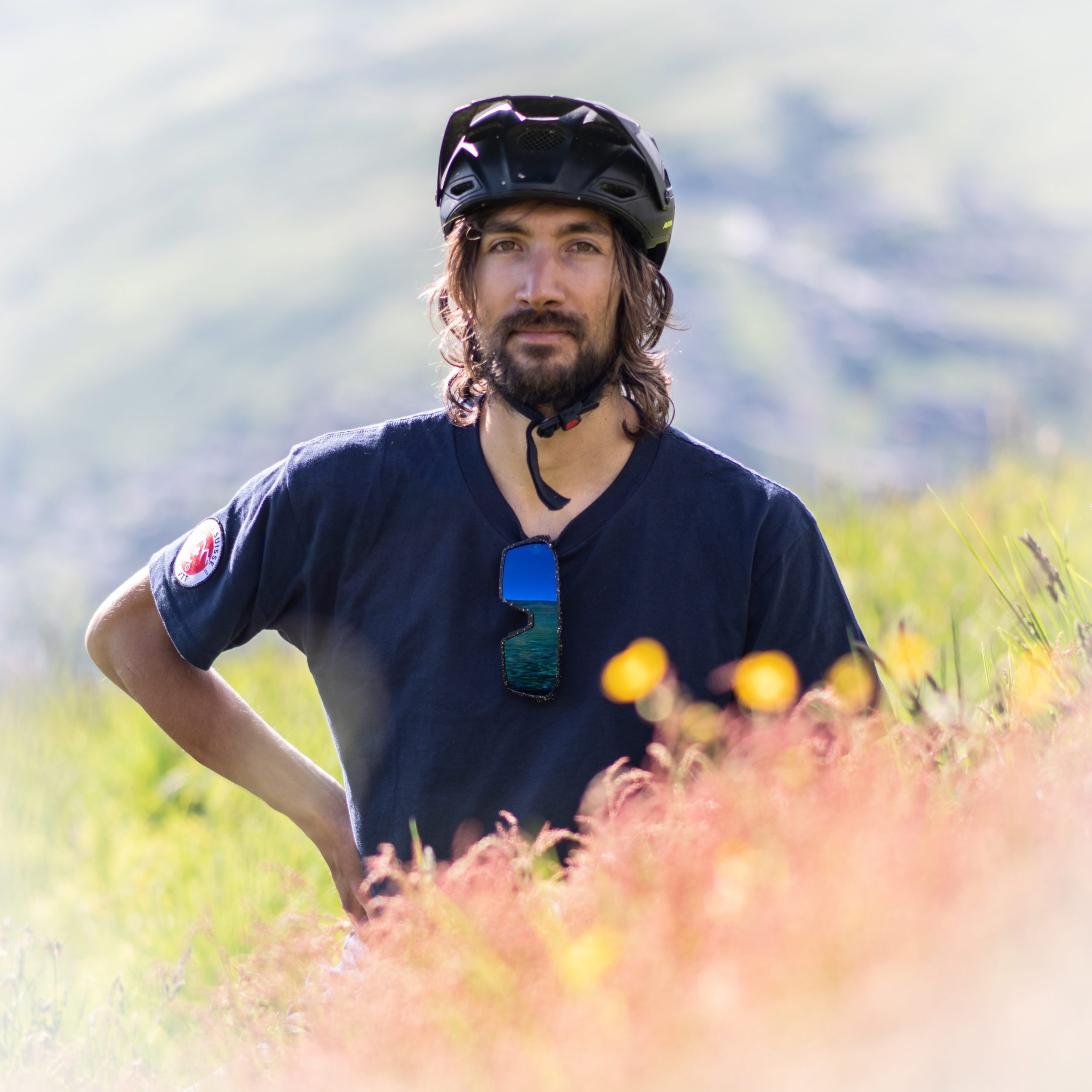 Yann Rausis
Age : 28
Nationality : Swiss
Languages : French, English
Guide since en 2017
Favorite practise : Enduro
Yann was lucky enough to grow up in the heart of Entremont valley.. Naturally attracted by challenges, Yann first took part in the local cross-country competition tour where he acquired solid physical and technical skills, which then lead him to the national and international circuits (Swiss cup, World cup, Grand Raid).
After a few years doing bike competitions, Yann shifted its focus towards another of his big passion, freeride skiing, where he also followed the path leading him to the highest competition level (Freeride World Tour). In the mean time, his approach of mountain bike changed to become a way of exploring the most wild areas of his surrounding valleys.
Besides sport, Yann graduated as an engineer/physicist at EPFL. Motivator, finisher and real quiet force, Yann will know how to encourage you and nourish your mind. The perfect companion for an atypical bike adventure.
Carl Renvall
Age : 26
Nationality : Swiss, swedish
Languages : French, English, Swedish
Guide since 2020
Favorite practise : Freeride
Carl Renvall grew up in the resort of Verbier. He is this child of the mountain who blossomed within the Valaisan resort …
Skiing, biking, climbing, hiking, camping…Carl will always know how to make the most of his environment whatever the season!
Carl is also an accomplished skier with two participations in the Freeride World Tour as well as a title of Junior World Ski Champion!  
A smiling and cheerful personality, Carl will brighten up your days, motivate your group, but also make you discover the smallest corners of Verbier… even the locals will be surprised!
Théo Cheli
Age : 28
Nationality : Swiss
Languages : French, English
Guide since 2017
Favorite practise : Slope Style, DH 
Originally from Arzier in the Vaud canton, Theo grew up besides the the Lake Leman before moving to Wallis for his scholarship in a sport/study school. There, Theo soon became very mature, having to deal with an intense training, a demanding curriculum and the discomfort of living in an internship.
There, he forged a strong temperament , a vivid motivation to shine on skicross competitions and an instinct to always stay true to himself in an environment under pressure.
Always ready to moove, to go for a ride or to offer his help, Theo is the perfect companion to spend dynamic bike days, full of fellowship and vigilance. His contagious energy will bring colors to your bike days (even grey and rainy ) !
Auguste Métille
Age : 26
Nationality : Swiss 
Languages : French, English, German Guide since 2020
Favorite practise : Freeride & E-Bike 
Auguste has grown up in the north of Vaud, in the village of Grandson in Jura. During his young age, he enjoys his home forest trails and takes part in local associations active in mountain biking like Bike attitude or ACCV. Besides his studies in geoscience, Auguste works as a bicycle courier in Yverdon and Lausanne. He even takes part in the 2017 European courier championship in in Vienna. Motivated to keep on his mountain biking journey, Auguste obtains his Swiss Cycling guiding license in 2020 before joining the Rad Biking team.
Auguste is a passionate mountain biker and a really enthusiatic person. He will make sure your MTB tour will happen with fluidity and good vibes.
Auguste arrived in 2019 in Wallis and today he knows Val de Bagnes like the back of his hand, where he can guide you on long and beautiful enduro or E-bike tours.
Rad biking Switzerland
Chemin de la Donchère  31
1934 Montagnier
Switzerland
​​​+41 79 825 87 42
+41 79 129 60 95
radbiking@gmail.com